mPension Manipur launching by Hon'ble CM Manipur, Shri N. Biren Singh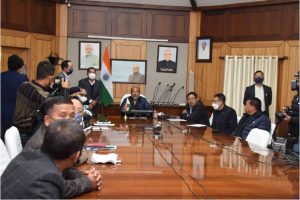 Hon'ble Chief Minister of Manipur, Shri N. Biren Singh launched mPension Manipur (https://pensionmanipur.nic.in/app) for pensioners drawing service pension from the Government of Manipur on 04/01/2021 at the Cabinet Hall in the presence of other Ministers, Chief Secretary Dr. Rajesh Kumar, State
Informatics Officer, Smt. M. Budhimala Devi, other senior officers of NIC Manipur, Director, Directorate of Treasuries & Account and other officers of Government of Manipur. mPension Manipur is a Web App for self updation of pensioners' digital photograph. It also provides other facilities such as sending of feedback to Treasuries and making online queries, notifies pensioners on the status of photograph submitted and responses to the queries.The App uses Artificial Intelligence techniques to detect liveness of the pensioner being photographed and will allow upload of only photographs taken from living persons.
URL – https://pensionmanipur.nic.in/app
URL link for downloading mPension Manipur App is on – https://treasurymanipur.nic.in