Launching of eOffice Suite for State Health Society(NHM) Manipur by Shri L.Jayantakumar Singh, Hon'ble Minister, Health and Family Welfare, Manipur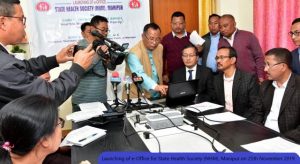 eOffice Suite was officially launched for State Health Society (NHM), Manipur by Shri L. Jayantakumar Singh, Hon'ble Minister, Health and Family Welfare, Manipur on 25th November 2019 at the Conference Hall of Minister's Chamber in the presence of Shri V. Vumlunmang IAS, Principal Secretary, Health and Family welfare Govt. of Manipur. The URL of the application is https://manipurnhmeoffice.nic.in/ . Shri Kh. Rajen Singh, SIO Manipur highlighted about the features and benefits of eOffice Suite as an eGovernance tool to the VIPs,officials and media persons present in the function. Shri V. Vumlunmang IAS, Principal Secretary Health and Family welfare, Govt. of Manipur asserted that the initiative is to facilitate the speedy and transparent file processing. He encouraged the officials and staff to use eOffice to deliver good public services and move towards bringing good governance by using the technology.
Shri L. Jayantakumar Singh, Hon'ble Minister of Health and Family Welfare congratulated the department for being the first Department in the state to implement eOffice and reiterated that it will maintain transparency, accountability and security of file processing in the department. He proclaimed that this initiative will curb various issues related to manual file processing. The Hon'ble Minister also applauded the NIC Manipur for its efforts for making eOffice application up and running.
Ms. Surabhi and Mr. Jai Singh, a team from eOffice Project Division, NIC HQ demonstrated the work flow of the eFile module of eOffice. The eOffice is a digital workspace solution for government offices which aims to provide a simplified, responsive, effective and transparent system for work processes within the department or organisation.
After the adoption of eFile management system at the State Health Society Manipur, the existing manual handling of files will be replaced by an efficient electronic system. This system involves all stages, including the electronic diarization of inward correspondence, creation of files, movement of correspondences and files, electronic signing of noting & drafts using Digital Signature Certificates (DSC), eSign and finally, the archival of records. The event was widely covered in local print and electronic media. A few photo and newspaper clippings are presented as below.